I have found very little evidence that wood turners used continuous rotation lathes prior to 1600, though pewterers and other metalworkers clearly did. In 1550 a lawsuit was brought against "old Peverell" because the noise from his "tornyng whele" was annoying his neighbors; but it is unclear if Peverell was a wood turner. The lack of continuous rotation lathes may have been due to the higher cost, the adequacy of pole lathes, or it may have related to guild restrictions. In urban areas such as London, guilds (or companies) restricted the tools and techniques that a craftsman could use. Even so, there were numerous disputes over who was entitled to use a lathe, and efforts to settle the dispute through company charters met with limited success.(10) Among rural craftsmen, restrictions were less stringent and individuals were more at liberty to practice multiple trades (or at least use their tools).(11) Among those craftsmen who observed guild restrictions, the work of a turner was marked by round mortises and tenons, pegged or wedged in place.(12) The cutting of square mortises and tenons was reserved for joiners, who might contract out the turning for a piece or, if skirting the restrictions, hire a turner to work in his shop or simply turn it himself.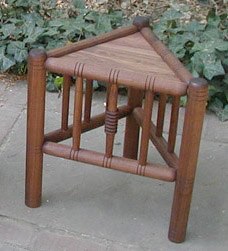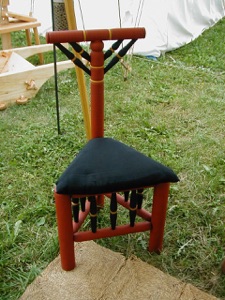 A significant market for the turner's labor was in household furniture. One of the most popular forms of turned furniture was the three-legged stool. In this design, three upright posts are joined by connecting rails and support a solid seat. No early examples of this common form seem to have survived, but it is frequently illustrated in the homes of both peasants and the well-to-do. An early 16th century inventory refers to "Tryangle stolys for my Lord," including "thre fottyde stooles, torned, the scetts of them of blake lether...."
(13)
A more elaborate variation, usually called a backstool, extends the rear post up to form a back rest. When spindles are inserted between the back crosspost and the front uprights to form arms, it becomes a full-fledged chair. Examples of this design have survived from the 17th century.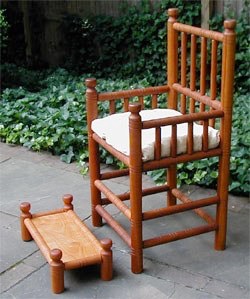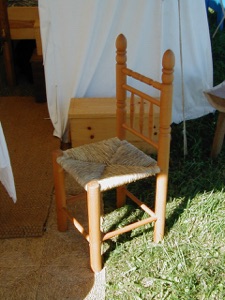 Four-legged turned chairs and stools also appear throughout the Middle Ages. These had seats either made of boards or woven from rush or hemp. Rush bottom chairs appear in the 11th century and in many ways resemble modern ladder-back chairs.
(14)
Turned furniture appears to have been popular across social classes, and are often illustrated as appropriate for both peasants and scholars, clergy, and nobility.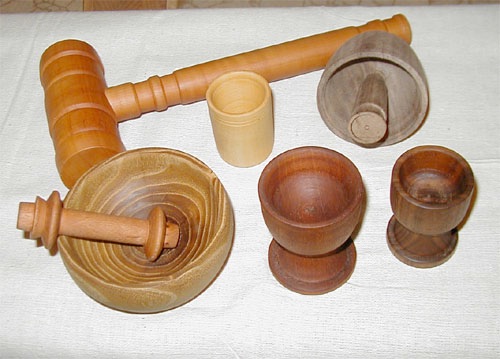 In addition to furniture, lathes were used to produce a plethora of objects: "spinning wheels, mortars, cups, bowls, and dishes, rushlight bases, tool handles, lace bobbins, carriage wheels, boxes, sieves, toys, pulleys, ships tackle, buttons, seals, scales, pumps" made from a variety of materials
(15)
. Perhaps the most popular drinking vessel from the 13th to the 16th century was the mazer, a bowl usually turned from maple.
(16)